Whistleblower Program Outline
The SEC Whistleblower Program was created in 2012 in response to the 2008 financial crisis. Multiple Ponzi schemes and other Wall Street misconduct went undetected by the SEC and other regulators. The Whistleblower Program encourages employees, victims and other individuals aware of a person or corporation engaging in securities fraud to step forward and report the misconduct.
In 2012, Scott Silver authored a primer on the SEC Whistleblower Program to assist lawyers or whistleblowers to navigate the program. The article:
is appropriate for lawyers and whistleblowers;
explains how the program operates;
highlights how a whistleblower can be awarded a bounty if the SEC recovers more than one million dollars.
Our lawyers include former SEC prosecutors. We have the experience, knowledge and resources to present your claim in the best possible light to help maximize your recovery.
Submit the form to be emailed a copy of the Whistleblower Program!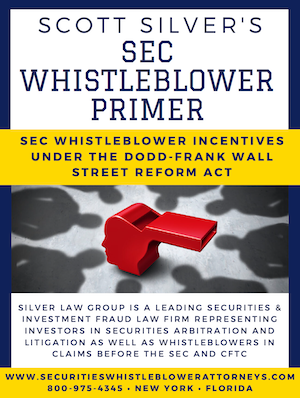 Click here for a free copy of Scott Silver's SEC whistleblower primer.