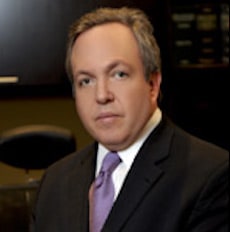 Scott L. Silver
Download VCard
Phone: 954.755.4799
Toll Free: 800.975.4345

11780 W Sample Rd
Coral Springs, Florida 33065
Scott L. Silver is the managing partner of Silver Law Group, a nationally recognized securities and investment fraud law firm. We are passionate advocates for victims of Wall Street malfeasance and we only represent investors and employees in claims against brokerage firms, investment advisors, hedge funds and other members of the financial services industry. A Martindale Hubbell Preeminent "AV" Rating given for general ethical standards and legal ability, Mr. Silver frequently speaks at national trial lawyer conferences, law schools and community events about investment fraud matters and avoiding the "wolves" of Wall Street. Initially from New York, Scott spent several years working for a prominent Wall Street firm representing the financial services industry. In 2002, Scott relocated to south Florida and now manages a firm with offices in New York, Florida and Washington D.C.
Scott focuses his law practice on whistleblower claims, securities arbitration and litigation and plaintiff-side class action litigation. His experience includes representing institutional and individual investors in claims against brokerage firms, investment advisors, commodities firms, hedge funds and others. Scott also routinely serves as counsel to receivers and trustees in matters relating to the recovery of investor losses in Ponzi schemes. Scott has extensive experience in arbitration before the Financial Industry Regulatory Authority (FINRA), the National Futures Association (NFA), and the American Arbitration Association (AAA). He has recovered millions of dollar on behalf of aggrieved investors through arbitration and the courts. Scott has represented clients throughout the United States as well as in Europe, South America, Israel and elsewhere.
Scott frequently contributes to various publications and has authored numerous articles relating to securities and investment fraud. Scott recently wrote a widely accepted primer on the SEC's new Whistleblower program.